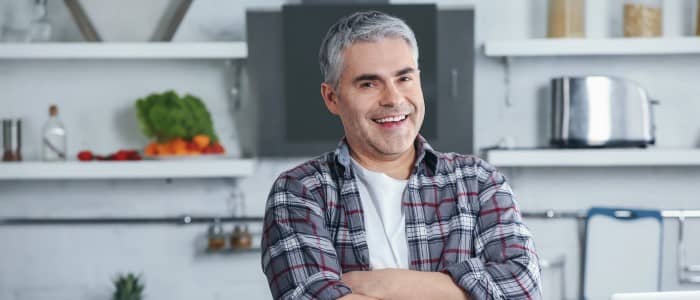 Once you lose a tooth, it can be difficult to determine what treatment option is best for your smile. For this reason, we recommend scheduling a consultation with our dental implant dentist in East Grand Rapids, MI. Dr. Elias would be more than happy to help you weigh the pros and cons of dental implants versus dentures.
In the meantime, here's what you need to know about both procedures.
What is a Dental Implant?
A
is a prosthetic tooth root made out of a titanium alloy. This implant is biocompatible, which means it's designed to fuse with your jawbone over the course of several months during a process called osseointegration.
Once osseointegration is complete, our dentist will be able to place the abutment and crown over top. Together, the implant, abutment, and crown all work together to give you the full appearance and function of a natural tooth.
What are Dentures?
Our dentist in East Grand Rapids, MI, offers both full and partial dentures. While a partial denture replaces one or several teeth, a full denture replaces all of the teeth in the upper and/or lower arch. Unlike dental implants, dentures are removable. This means that you'll need to remove them at night to allow your gums proper time to rest. The healthier your gums, the more support they'll provide for your dentures.
How Are Dental Implants and Dentures Different?
A dental implant is embedded deep in the jawbone to provide you with the ultimate stability as you eat, talk, laugh, and smile. Dentures, on the other hand, rest on top of your gums. This means that your dentures may slip on occasion when you make a sudden movement, such as sneeze or smile.
In addition to being stable, dental implants are also the only tooth replacement option that stops bone loss in the jaw. Once you lose a tooth, your body starts to absorb the minerals in the jaw to use elsewhere. A tooth implant, however, exerts pressure on the jaw which lets the body know that the bone surrounding the empty socket is still in use.
Learn More: Explore the Benefits of Dental Implants →
How Should I Replace Missing Teeth?
When considering your treatment options, it's important that you schedule a consultation with our dental implant dentist in East Grand Rapids, MI. Dr. Elias will be able to determine the best course of action to restore the full function and appearance of your smile.
In general, you may be a candidate for dental implants if you have sufficient bone density in your jaw. That way, the dental implant has a strong and solid foundation to later support an abutment and crown. It's also recommended that you be a non-smoker because smoking inhibits the body's natural ability to heal after .
Request a Dental Implant Consultation
Our dental implant dentist in East Grand Rapids, MI, is accepting new patients. To schedule a consultation and explore your tooth replacement options, please call (616) 458-2048. You may also fill out our online contact form and someone from our team will reach out to you soon.