Do you have one or more missing teeth? If so, it's time to schedule an appointment with our dental implant dentist in East Grand Rapids, MI. Dr. Richard Elias III will be able to determine if you're a candidate for dental implants or another procedure to restore the full health, appearance, and function of your smile.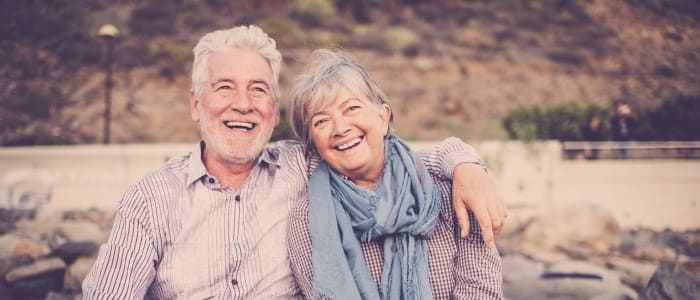 In the meantime, here's what you need to know about the dental implant procedure. If you have any questions that aren't listed here, please reach out to our office to schedule an appointment.
What is a Dental Implant?
A dental implant is a prosthetic tooth root that's made out of a titanium alloy. Since the implant is biocompatible, it'll fuse to your jawbone over time during a process called osseointegration. Once osseointegration is complete, your implant will be ready to support an abutment and crown. Together, the implant, abutment, and crown give you the full function and appearance of a natural tooth.
How Are Dental Implants Different From Dentures?
A denture is an oral appliance with prosthetic teeth and a pink acrylic base to match your gums. However, unlike a dental implant, a denture rests on top of your gums. As such, dentures won't prevent bone loss in the jaw over time.
As soon as you lose a tooth, your body starts to absorb the minerals in your jaw to use elsewhere. While a denture won't stop this process, a dental implant will. This is because a dental implant is embedded in the jaw like a natural tooth root, which helps keep the bone healthy.
Other benefits of dental implants include being able to enjoy your favorite foods without the worry of your teeth slipping in public. Dental implants look and feel like natural teeth so you can eat, smile, laugh, and talk with confidence.
Who is a Candidate for Dental Implants?
You may be a dental implant procedure.
if you're missing a tooth. During your appointment, our dentist will evaluate the bone density, quantity, and quality in your jaw to determine if you're a candidate for the
If you don't have sufficient bone tissue in the jaw, Dr. Elias may recommend a bone graft to ensure adequate support for a future implant.
It's also preferred that you be a non-smoker to be a candidate for dental implants. This is because smoking inhibits the body's natural healing ability after
.
How Long Do Dental Implants Last?
The average lifespan of a crown placed on a dental implant is between 10 and 15 years. However, the implant itself can last a lifetime if given proper care. This means that you'll need to practice good oral hygiene at home and continue seeing our East Grand Rapids dental implant dentist for routine teeth cleanings. The healthier your smile, the longer your dental implant and crown are likely to last.
During your routine checkups, our East Grand Rapids dentist will check the condition of your dental crown and implant to ensure they last as long as possible. He'll then recommend the replacement of the dental crown as needed.
Request an Appointment with Elias Dental
Dr. Richard Elias III is an experienced dental implant dentist in East Grand Rapids, MI. He's also accepting new patients and would be more than happy to help you explore your tooth replacement options. To schedule an appointment, please call Elias Dental at (616) 458-2048. You may also fill out our online contact form and someone from our team will reach out to you soon.